ThermaCELL is a popular line of personal mosquito repellent appliances, including handheld personal devices (optionally carried in a belt holster), and lanterns of various sizes.  All are cordless and portable.  The technology behind ThermaCELL has been tested and approved by the US Army and used by troops stationed in the Middle East. Heat, applied to a treated pad, releases the repellent Allethrin (an odorless, synthetic form of the natural repellent found in Chrysanthemum flowers.) Most models use a butane fuel cartridge to generate heat. 
We decided to take the Mini Mosquito Repellent Lantern (MR-9C) for a spin.
What's in the box?
All ThermaCELLs are packaged with basic supplies you need to get started. The Mini Lantern comes with a butane cartridge and two repellent pads.  You can purchase replacement fuel and repellent mats online.  Pricing is under $10 for 1 cartridge and 3 mats. If you plan to be using it a lot, the "value pack" (4 cartridges, 12 mats) for just a few dollars more, is a better buy.  Supplies fit all ThermaCELL devices, however the "Skeeter Reliever" lantern uses tea light candles instead of butane.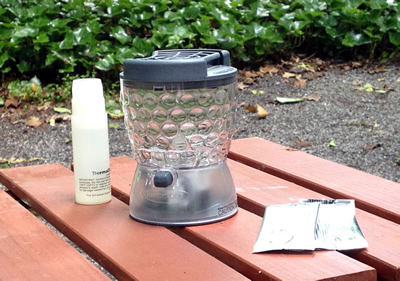 Assembling the ThermaCELL
The Thermacell is a no-brainer to assemble: simply unwrap one of the pads, slip it into the top of the device under the grate, then uncap and screw the butane cartridge into the side. (Actual location of the pad and the cartridge varies from model to model, but it's more-or-less the same process for all.)
This picture shows the pad partially inserted – push it in, as indicated by the arrow, until it's completely under the grate. Pad color changes from blue to white when it needs to be replaced.
Here's the fully-assembled lantern. Yes, this one is sort of funny looking … there's no graceful place to hide the butane cartridge on a lantern this small!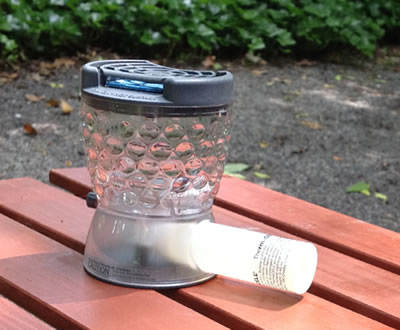 Using the ThermaCELL
To start, press the ignition button 3-5 times "in rapid succession".  It initially took me 2 tries to do this, but once I had the hang of it, it was easy and reliable.  You will hear a "whoosh" when the ThermaCELL ignites.
If you're using it in a well-lighted area, it is pretty hard to tell if it's lit – we were able to see a tiny flame behind the glass of this lantern.  The top of the device will get  warm within minutes. For safety reasons, there is no open flame. 
This lantern has an automatic safety shutoff , which kicks in if the device is lifted or tipped over.  We tried it, ours worked like a champ.  There's an override button on the side (indicated by the red arrow below) that you can hold down if you need to pick it up and move it, but  it's in an awkward spot -  we found it easier to just to re-light it.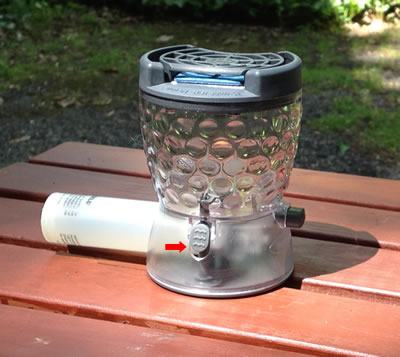 So does it work?
We put the thermacell to our unscientific-but-challenging "real life, suburban backyard" test. Choosing late afternoon in the middle of a humid, 90 degree heat wave, we had plenty of mosquitoes bothering us prior to our test (we slapped away dozens of the little beasties in the short time it took to take these photos)
Per the instructions on the box, we lit our ThermaCELL, left it on a table for about 20 minutes to do its thing, then returned to gauge the resulting mosquito activity.   Thermacell definitely delivered! By the time we returned, the pesky mosquitoes had noticeably made themselves scarce, earning a big "thumbs up" for this nifty little gadget!
A few notes
ThermaCELL's repellent is EPA approved, but you do need to exercise a few precautions:
Don't use in an enclosed area – there is no odor (that we could detect), but concentrated fumes can be harmful to people and pets. Use ThermaCELL on open patios and decks and campsites, not in a tent or on a partially enclosed porch.  Also, per the label,  don't use it near exposed food.
The grate on top of the Thermacell gets hot.  Keep little fingers (and your own) away from it and give the device time to cool before storing.
ThermaCELL uses the repellent Allethrin, which is toxic to fish and possibly harmful to other aquatic life.  Do not this use near your koi pond
Like other scent-based repellents and mosquito traps, ThermaCELL works best when there is little to no wind. It only covers a 15'x15' area to begin with, so if you have a larger patio you may want to place several lanterns around the perimeter.
Conclusion:
Unlike traps and yard treatments, the ThermaCELL won't permanently solve your mosquito problem, but if you just want them to leave you alone NOW,  ThermaCELL is afforcdably priced, easy to use, and should do the trick.
Note: Since this review was written, the product shown has been discontinued by the manufacturer. However you can expect similar operation and results with other ThermaCELL products, as they all use the same technology.