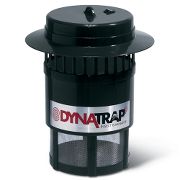 Once upon a time, the only mosquito traps you could buy were propane burning behemoths. They were bulky, they were expensive, and they were prone to frustrating ignition issues. While these traps saw extensive use on golf courses and corporate properties, they were more of a novelty for ordinary homeowners.
In May 2006, Dynamic Solutions Worldwide, LLC changed all that with the introduction of the Original DynaTrap Insect Trap, Model DT1000. Winner of an IENA award for invention, the DynaTrap DT1000 was a small, lightweight and affordable mosquito killer with an innovative solution for catching mosquitoes.
Let's take a brief look at the DynaTrap technology and the currently available indoor and outdoor mosquito traps.
How do DynaTrap Mosquito Traps work?
Instead of propane and chemical attractants, the classic DynaTrap technology uses three simple elements to attract and kill mosquitoes and other flying insect pests:
An ultraviolet light source. The replaceable UV light bulbs generate light and heat - both mosquito attractants. The bulbs in the DynaTrap emit ultraviolet light in a range which is believed to be particularly attractive to certain mosquito species.
A funnel coated with titanium dioxide (TiO2). Mosquitoes are fatally attracted to carbon dioxide (CO2). - the substance normally exhaled by their prey. The older mosquito traps relied upon burning propane to generate CO2.
The DynaTrap uses a photocatalytic reaction between the ultraviolet light and the titanium dioxide coating to produce carbon dioxide. This means that carbon dioxide is generated when the ultraviolet light interacts with the titanium dioxide on the funnel.
A powerful vacuum-acting fan. The fan pulls mosquitoes hovering near the machine into the attached retaining cage, where they dehydrate and die.
The picture below shows where each of these elements are located on a typical DynaTrap mosquito trap: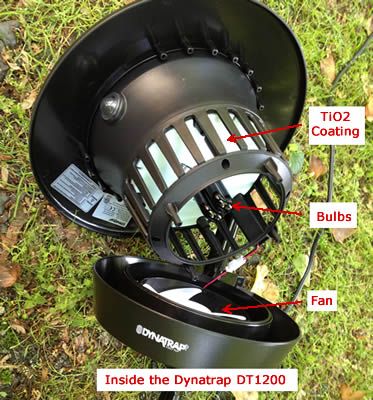 Today, there are dozens of copycat mosquito traps on the market, but DynaTrap is still the first and the best of its kind.
DynaTrap now offers an extensive product line of both indoor and outdoor mosquito traps, with a confusing number of options and models to choose from.
Outdoor DynaTrap Mosquito Traps
What outdoor DynaTraps are available for 2020?
There are several model families of outdoor DynaTraps - you can deceipher the maximum protected coverage area from the model number::
3 digit model numbers (DT1xx, DT6xx, DT7xx) protect up to 1/4 acre
The 1000, 1100 and 1200 series (DT10xx, DT11xx, DT12xx) cover up to 1/2 acre. The DynaTrap DT1210 and DT1260 are pole mounted.
The DT1700 and DT1750, which respectively cover 3/4 acre and a full acre.
The 2000 series (DT2000, DT2020) are heavy-duty traps for up to 1 acre.
[ See our reviews of the DynaTrap DT1000 and DT2000 series mosquito traps ]
In addition to the plain mesh catch cage, there are three decorative catch cage variations. Each is available on several mosquito trap models:
The Sonata (DT160-DEC2, DT1050-DEC2, DT1260-DEC2, DT2000XLP-DEC2)
The Decora (DT1260-TUN, DT1050-TUN, DT2000XLP-TUN)
The Botanica (Stone or Tungsten) - high capacity cage with a decorative design.(DT2020XLP-ST20, DT2020XLP-TN20, DT1120-St20, DT1120-TN20)
The LED ATRAKTA™ Series is a step away from the classic DynaTrap technology. the ATRAKTA traps use long-life UV LED's instead of replaceable bulbs, and optionally a specially formulated attractant pod that mimics the natural body odor of humans. The LEDs are rated for 40,000 hours of use. Models include the DT700 and the DT600 (available in antique copper, sterling or tungsten colors),
Indoor DynaTrap Mosquito & Insect Traps
Indoor DynaTraps come in two varieties:
Models that have a catch cage like the outdoor traps
Traps that use a replaceable sticky glue pad.
What are the indoor DynaTrap models for 2020?
DynaTrap DOT fly trap - A small sticky paper trap that plugs into an outlet.
The Flylight insect trap - Atraktaglo led lights plus stickytech glue pads. Plugs into an outlet. Since this trap obscures your entire outlet, you can optionally buy a model with pass-through outlets - either 2 A/C outlets or 2 A/C and 2 USB outlets.
The Ultralight series - Small indoor traps, designed like mini versions of the outdoor DynaTraps. Bulbs in the Ultralights are not replaceable.
The DT250IN - Covers up to 1000 sq feet. Like the outdoor DynaTraps, but for use indoors or in covered areas only.
The DT0500IN - A wall mounted trap that protects up to 1250 sq feet,
The DT3012 and DT3030 - Fanless, wall-mounted traps that use UV light and StickyTech™ glue boards. Respectively protect up to 300 and 600 sq feet.
That's the current DynaTrap lineup for 2020 - older / discontinued models may still be available for purchase from various sellers.
Shop for DynaTrap Mosquito Traps on Amazon
Find DynaTrap Mosquito Traps on eBay