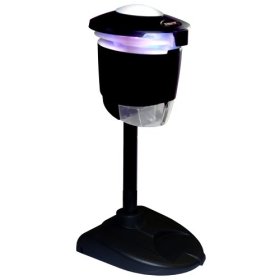 Introduced in 2005, the PV440 Galaxie is a small, moderately priced, A/C powered insect trap which covers areas up to an acre in size.
User reviews of this unit are mixed, online complaints hint at some reliability issues.
For smaller yards, see the Flowtron Galaxie PV-75a
Details:
Attractant(s) Used:
Attracts insects using heat, light, color, scent and motion.
Capture method(s):
Vacuums mosquitos into the trap.
Additional features:
Removable stainless steel catch tray.
Price range:
$158-$199
Supplies and Accessories:
Octenol mosquito attractant cartridges
Cost of supplies:
Around $25 for a package of 6.
User feedback:
We found mixed reviews. Apparently there are a few "lemons" - complaints all involved instances of the unit failing to work after a short period of time. Other buyers were very happy with it.
Comments:

Modestly priced product with many happy users , but online reviews suggest occasional reliability issues. To be on the safe side, check on your merchant's return policy before buying.

Also available in a smaller, 3/4 acre model.
Where to Buy:
Note: Promotions and sale prices may NOT be reflected below - check merchant sites for details.