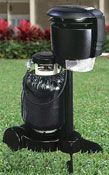 Completely redesigned in 2007, the new Flowtron Powertrap MT350 is an innovative combination of insect control methods and well-engineered reliability.
The PowerTrap attracts mosquitos through up to NINE different methods, including heat, light, color, moisture and scent. Have asian tiger mosquitos? An optional Lurex3 attractant creates the lactic acid they crave to effectively lure them in.
One of the best features about the MT350 is the new and patented non clogging ignition system - a welcome improvement for propane-powered machines, where keeping the ignition modules working smoothly has in the past been problematic.
Additional features include "set and forget" programmable options, which besides being practical and convenient will save you money on propane, electricities and supplies.
Details:
| | |
| --- | --- |
| Attractant(s) Used: | Attracts insects using heat, light, color, scent, moisture, CO2, UV light and motion. |
| Capture method(s): | Vacuums mosquitos into a removeable catch basin, where they dehydrate and die. |
| Additional features: | Four-way programmable settings save energy and limit octenol usage to the times when it is most effective.. 1 year limited warantee. Patented clog-free ignition system. |
| Price range: | $425-$702 |
| Supplies: | Octenol cartridges and optionally Lurex3 (Lurex produces Lactic Acid which is better at attracting AsianTiger Mosquitos.) |
| Cost of supplies: | Varies with use. This machine does not have to run 24/7 - efficient, programmable options can yield considerable savings on propane, electricity and attractants. |
| User feedback: | Pricey as it is, this machine is getting rave reviews for its effectiveness and improved reliability. |
| Comments: | Major improvement over the older propane machines, which were effective enough but had major reliability issues. It's not cheap, but if you have a large area to protect the Power Trap MT 350 is well worth it. |
Where to Buy:
Note: Promotions and sale prices may NOT be reflected below - check merchant sites for details.