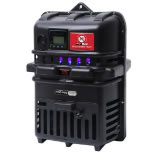 Looking for a serious mosquito-fighting machine? Enter the Mega-Catch Pro 900 Ultra. The top-of-the line Ultra adds an optional patented, slow-release, variable CO2 dispersion technology which accurately mimics warm-blooded "prey", greatly increasing the capture rate. Programmable settings let you fine-tune the attractants to target specific mosquito species - a welcome change from the usual "one size fits all" traps. This trap becomes even more irresistible to mosquitos wth the addition of an octenol lure and creative use of the wet capture tray (see capture methods below).
The use of CO2 or octenol is optional (but highly recommended),and you can also choose between the wet and dry (traditional mesh net) capture methods. Using only the built-in light and heat to attract mosquitoes, the trap requires no refills or supplies and uses about as much power as a 40 watt bulb
The Mega-Catch Ultra has some impressive customer feedback, but even more convincing are the well-documented independent test results, including a test conducted by the USDA . Put to the test in challenging places like the swamps of Florida and Far Northern Queensland in Australia, the test results showed that the Mega-Catch significantly outperformed competing machines, including the Mosquito Magnet Liberty and Pro, in nearly every respect.
The Mega-Catch Ultra is not pretty and it's not cheap, but it's reliable and it works. It works well. If you're battling a challenging mosquito problem, this, used in conjunction with common-sense preventative measures, is by far the most effective way to fight back!
Details:
| | |
| --- | --- |
| Attractant(s) Used: | Heat, multi-frequency light and optionally CO2 system. The Mega Catch's patented variable slow-release CO2 gas system is said to increase capture rates up to 300-400% over standard methods. Can also be used with an optional attractant strip (recommended) |
| Capture method(s): | Wet (container with liquid) or dry capture (net). Wet capture is usually more effective as the liquid you use (the manufacturer recommends a mixture of water, liquid soap and a little syrup or soda pop) can act an additional attractant to draw in mosquitos. |
| Additional features: | Weatherproof housing, multiple programmable settings. Stand, skirt, gas regulator, gas cable and snap fittings, 60 foot extension cord included. CO2 cylinder / trolley are optional. 12 month warranty. |
| Price range: | $899 for the trap and basic accessories. |
| Supplies and Accessories:: | CO2 cylinder (optional), Octenol strip (optional). |
| Cost of supplies: | Octenol replacement strips - $29.95 for package of 2. Also available as a package of 4 and a replacement UV bulb for $59.95. |
| User feedback: | Excellent customer feedback gives the Mega Catch Ultra high marks for effectiveness and reliability. In the event of a problem, Mega-Catch is a small company that offers outstanding and responsive customer service. |
| Comments: | Highly effective and dependable (if somewhat pricey) product. Use of the CO2 cylinder is highly recommended, as it has been shown to increase capture rates up to 300-400%. |
Available from: Mega-Catch Mosquito Traps
Specifications:
Dimensions: 15"x 13' x 22"
Weight: 19 lbs.
Power Source: A/C (110/12 volt)
Coverage: Up to 1.5 acres, with a range of 150'.
Where to buy :