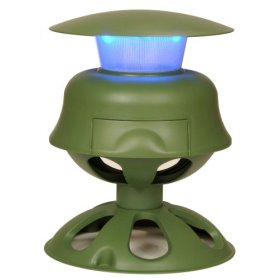 The 61005 Plastic Mosquito Catcher is a new, low-priced entry into the mosquito trap market. Designed to be safely used on a tabletop, these units are great for protecting a small area such as your deck, patio or a small back yard.
Not as many bells and whistles as the more expensive insect catchers, but a proven technology at a very affordable price.
Note: Like other mosquito catching machines, the 61005 works by first attracting mosquitos - luring them in to kill them. You will get the most out of these units by placing them away from where people are congregating or initially running them while nobody is outside.
Details:
| | |
| --- | --- |
| Attractant(s) Used: | Blue LED's emit a soft, unobtrusive light which attracts the mosquitoes. |
| Capture method(s): | A high-powered fan pulls insects into a screened drawer. |
| Additional features: | Includes an optional extender base which elevates unit to 30" - recommended if you will be placing the catcher on the ground.. |
| Price range: | $97-$129 |
| Supplies and Accessories: | None. |
| Cost of supplies: | N/A . |
| User feedback: | Works pretty well and the price is right. |
| Comments: | Works best if lights are elevated - if you are not placing it on a tabletop, use the extender base. Also sold as packages of two. |
This product is no longer available.
Specifications:
Dimensions: 14" high (30" with extender base)
Weight: 7 lbs.
Power Source: A/C
Coverage: Small areas - patios, balconies, decks.
Where to buy :
This item is no longer available..