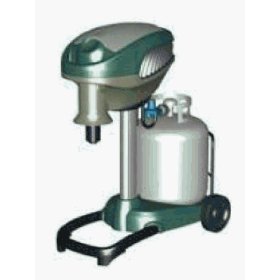 The Liberty Plus by Mosquito Magnet ™ is a state-of-the-art, cordless insect control machine which uses propane to create CO2 - one of the most effective mosquito attractants - to capture and kill mosquito colonies.
Like the other Mosquito Magnet products, the Liberty Plus can be used with ocetnol or lurex3 - a scent attractant which is more enticing to day-biting asian tiger mosquitos, a known carrier of West Nile virus.
This unit has a 1 year warranty..
This model is discontinued. Click here to shop for accessories and supplies
Details:
Attractant(s) Used:
CO2, heat and moisture
Capture method(s):
Insects are vacuumed into net. Nets need to be replaced periodically.
Additional features:
One button operation, easy to assemble, base folds for storage. Comes with attractant, capture net, quick clear adapter, battery pack, battery charger and instructional DVD. 1 year warranty.
Price range:
$539 - $755
Supplies needed:
Octenol insect attractant, optional Lurex3, Propane (full tank lasts up to 3 weeks). Capture nets also need to be replaced.
Cost of supplies:
Octenol - $25-$35 per 3 pack - replace every 3 weeks.
Propane - price varies
User feedback:
Very effective product. Older models had some reliability issues with the propane starter.
Comments:
One of the biggest complaints about the early Mosquito Magnet products was their customer service. In 2007 Mosquito Magnet was acquired by Woodstream Corp, which offers a toll-free customer support hotline which is available Mon-Sat.