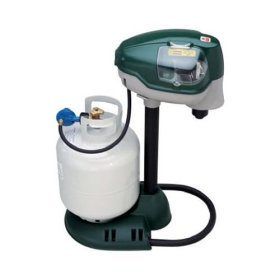 One of the first mosquito traps on the market, the Mosquito Magnet is an insect controlling workhorse which uses a simulation of human habitation (CO2, heat and moisture) to attract the mosquitos and a patented system to capture them. Effective for home or commercial use, the Defender can be run 24 hours a day in any kind of weather, eliminating mosquitos from up to 1/2 acre. Includes 1 year warantee.
This model is no longer being manufactured but may still be available new or used.
Details:
Attractant(s) Used:
Carbon Dioxide (CO2), heat and moisture
Capture method(s):
Patented counterflow system vacuums insects into a net . Nets need to be replaced periodically.
Additional features:
Furniture-grade plastic, quiet fan, all-weather use. 1 year warranty.
Price range:
$279-$299
Supplies needed:
Octenol or Lurex insect attractant, replacement capture nets, Propane.
Cost of supplies:
Octenol - $15-$35 per 3 pack or Lurex (around-$25 per 3 pack)
Replacement Net - around $15, lasts about 3 weeks
Propane - price varies , 20 gallon tank lasts 2-3 weeks.
User feedback:
Like the Mosquito Magnet Liberty, this product receives great reviews for effectiveness, so-so reviews for reliability.
Comments:
Very effective coverage for up to 1/2 acre areas. (Never use propane mosquito traps indoors.).