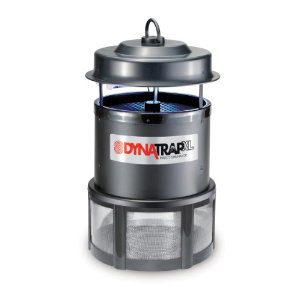 As you might guess from the "XL", this model is the high-capacity, wide-range model of the popular Dynatrap line of mosquito traps.
The 2000 XL is twice the size of the popular DT 1000 series. With brighter bulbs, a larger catch container and a more powerful fan, the Dynatrap DT-2000-XL provides heavy-duty insect control for areas up to a full acre in size.
The 2000 uses the same technology as the popular Dynatrap 1000 series. It also features several minor design improvements, including one we particularly like: a damper which closes when the unit is turned off to prevent recently-captured insects from escaping (an annoying problem with dry-capture mosquito traps.)
Details:
Attractant(s) Used:
Light, heat, and a patented titanium dioxide coating which generates CO2 (Carbon dioxide) without the need for propane or CO2 gas cylinders.
Capture method(s):
A quiet but powerful fan sucks insects into the trap's dry-catch container.
Additional features:
Damper closes when machine is powered off to prevent "escapees." As long as you wait a while after you turn off the fan, this won't be a problem.
Protective screen between the bulbs and the fan. Comes with 2 UV bulbs (approx. 4000 hours) and a cleaning brush. Available in basic black or hunter green. One year warranty.
Price range:
$165-$199
Supplies needed:
Light bulbs.
Cost of supplies:
Replacement bulbs are around $13 for a package of two.
User feedback:
Very good - this is a bestselling item.
Comments:

Powerful trap, several improvements over the original DT1000. Bulbs should last a couple of months, but you might want to keep a couple extra on hand just in case.
We love this product, but we wish the Dynatraps came with a longer power cord! Unless you are positioning it right near your power supply you will need an extension cord.

The DynaTrap is one of our top mosquito control picks!
Specifications:
Dimensions: 22 " high, 13" diameter
Weight: 9lbs.
Power Source: A/C - 7' cord
Coverage: Up to 1 acre
Available From: