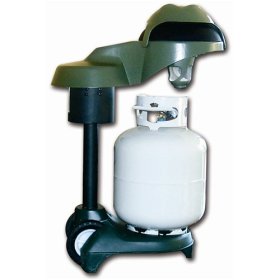 The largest and most powerful entry to Koolatron's (formerly Lentek) popular line of mosquito catchers, the MK12-FE Guardian trap protects a full acre without the use of harmful pesticides. Durable, weatherproof and easy to assemble, the Guardian has been scientifically designed for maximum effectiveness. One of its unique features is a patent-pending combo of thermal imaging techniques, which simulate a living, breathing creature - luring in hungry mosquitos to trap and kill them in the protected, easy-to-empty cup.
Don't confuse this with the Guardian MK11 mosquito trap that was introduced in 2003. Although similar in appearance, the MK12 is much more portable (being a full 50% lighter than the MK11) and boasts several functional and design improvements as well.
The manufacturer also offers a cordless version of this item - the MK-14.
Details:
Attractant(s) Used:
Light, color, airflow, CO2, controlled moisture release, spot, dynamic and static thermal imaging,
Capture method(s):
Vacuum fan pulls mosquitos into a protected capture cup.
Additional features:
1 year warranty, more portable than earlier models. Weatherproof plastic construction, outdoor wheels and lockdown system.
Price range:
$350-390
Supplies needed:
Propane
Cost of supplies:
20 lb tank will last for approximately 4 weeks of continuous use
User feedback:
Good userl feedback. Previous model which this replaced was also well-received.
Comments:

May be used with an appropriately-rated extension cord (16 gauge or thicker, 120V/0.5 amp or higher) . Like all propane units, the MK12-FE is for outdoor use only.

Note: Amazon has erroneously posted details about Lentek's propane tank cover accessory instead of the machine itself in their "product features" section. The feature information we have on this page has been verified against the specs on the manufacturer's own site.
Also available from :
Note: Promotions and sale prices may not be accurately reflected in the prices below - check merchant sites for details.