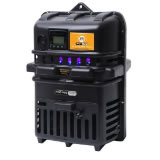 The Pro 900 Premier XC has all the features of the older Premier, the best selling MCP-800, along with an array of impressive new bells and whistles.
There are thousands of species of mosquitoes in the world, and each is a little different in their response to various sensory stimuli. The XC addresses this by offering not only multiple attractant methods, but by letting you customize and program them - to fine tune them in whatever manner best suits your specific mosquito problem. These stimuli are set to fluctuate in intensity to better simulate human activity and make the trap more enticing to mosquitoes. A high powered fan and your choice of a dry or wet capture method finishes the job!
The eco-friendly XC uses less power than a 40 watt bulb, and the 60 foot extension cord (provided) can be plugged into any outlet.
The Premier XC provides coverage of up to 1 acre. With Co2 upgrade capability and the programmable features, the XC is a reasonably-priced yet highly-effective weapon in the fight against moderate to heavy mosquito populations.
Details:
Attractant(s) Used:

Customizable and programmable Multi Attractant Stimuli (MAS) settings, including 5 stage heating element with adjustable heat mode, 5 stage LED cluster to simulate movement, 5 stage oscillating UV LED array set at frequencies known to attract mosquitoes, low frequency black-light UV.

Optional: Octenol attractant, variable quantity slow CO2 gas release system.

Capture method(s):
Multiple Attractant Stimuli can be programmed and fine-tuned to attract the specfic type of mosquitos which are a nuisance where you live. Mosquitoes are pulled into the unit by a high-speed fan and trapped either in a catch net or a wet catch container. The wet catch method is a little messier but usually more effective. The fan on the XC features 5 variable fan speeds.
Additional features:

All-weather casing,multifunction, "set and forget" programmable timer, weatherproof 100-240/12V power supply. Comes with powder-coated stand, exhaust skirt, and a 60' extension cord. Self-serviceable with on-board diagnostics. 12 month manufacturer warranty.

Optional: Attractant strips, weatherproof cover, car cable, battery cable, CO2 gas upgrade kit.

Price range:
$599 - The manufacturer offers special accessory packages, see their website for details.
Supplies and Accessories:
Attractants - optional, but recommended.
Cost of supplies:
$29.95 for a package of 2 attractants. $59.95 for a package of 4 attractants and a UV replacement bulb.
User feedback:
Great feedback from owners of this trap. Mega-Catch also has a good reputation for their customer service. Better results reported by owners using it with the the optional CO2 kit, which can boost capture rates by up to 400%.
Comments:
The Premier XC can be upgraded with an optional CO2 kit, which will greatly enhance the capture rate. If you have a serious mosquito colony and need the power of the CO2 attractant without the 1.5 acre coverage of the Ultra, buying the XC and the upgrade kit is the most cost-effective way to go.
Where to buy:
Mega-Catch Mosquito Traps - The Premier XC is available only through the manufacturer and their authorized distributors.
Specifications:
Dimensions: 15" x 14" x 22"
Weight: 18 lbs.
Power Source: A/C (12V)
Coverage: Up to 1 acre, with a range of 120 feet.
Where to buy :