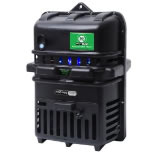 A couple of years ago, one the best selling mosquito traps to hit the market was the Mega Catch Premier, and with good reason: It just ... worked! The original Premier (MCP-800) was replaced by two newer models: the feature-rich Premier XC, and the new, affordably-priced Pro 900 Premier .
The new Premier is a slightly scaled-back version of the former model, but it still features the proven Mega-Catch technology in a durable, easy-to-use product. Like the rest of the Mega Catch line, the new Premier uses a combination of variable infrared heat signatures and UV LED's programmed in a range and pattern proven to attract a wide variety of mosquito species. With a range of up to 3/4 acre, the Premier is perfect for the average small to mid-sized yard.. It can be used with either a dry (net) or wet (catch cup) capture method, and with or without an attractant cartridge. For an optimal catch rate, we highly recommend using the optional attractant strips.
Details:
Attractant(s) Used:
Mosquitoes are attracted by a combination of variable spectrum lighting (visible and invisible), infrared heat, and the texture of the exhaust skirt. Use of octenol lure is optional.
Capture method(s):
A high-speed fan pulls mosquitoes into either a catch net or a wet catch container (recommended). The wet catch formula can also become an additional attractant , simply by adding a little syrup or sugar soda to the mix.
Additional features:

Standard package includes all-weather casing, exhaust skirt, 30' extension cord, weatherproof 100-240/12v adapter, stand, and a 12 month manufacturer warranty.

Optional accessories include attractant strips, a weatherproof cover, and a car cable. Mega-Catch usually offers a money-saving package when you purchase the Premier plus several of the more popular accessories - see site for details.

Price range:
$349 There is very little price variation for this product.
Supplies Needed::
Attractants - octenol strips - optional but recommended.
Cost of supplies:
$29.95 for a package of 2 attractants.
User feedback:
Other than a problem with fan clearance in early models (which was resolved quite some time ago), the overall feedback for the former Premier was good. Issues seem to have revolved around effectiveness rather than reliability. Mega Catch has a great reputation for their responsive customer service!
Comments:

The Premier lacks the CO2 attractant which is optional with the Ultra and the XC, and standard on many other mosquito traps. You can expect a lower capture rate when you compare a CO2 trap against one that does not use CO2.

That said, much of the success of any mosquito trap is using it correctly, and the manufacturer's website has a lot of helpful information for optimizing and using their products. We recommend using the optional attractant lure.

Where to buy:
Mega-Catch Mosquito Traps - The Premier is available only through the manufacturer and their authorized distributors. Discounts and special deals are offered periodically - see their website for details.
Specifications:
Dimensions: 15" x 14" x 22"
Weight: 15 lbs.
Power Source: A/C (12V)
Coverage: Up to 3/4 acre, with a range of 100 feet.
Where to buy :