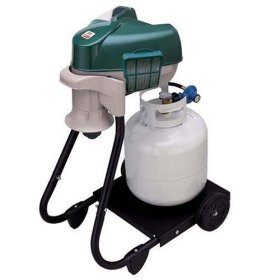 Similar to the smaller MM4000 Defender, the Liberty features wheels for easy transportation.
Mosquito magnets can use Lurex attractant . This is important if you live in an area infiltrated by Asian Tiger mosquitos - a species which is active in the daytime and can breed in running water - as they are more effectively caught using Lurex than Ocetnol.
This unit has a 1 year warranty.
This model has been discontinued . Click here to shop for accessories and supplies.
Details:
Attractant(s) Used:
CO2, heat and moisture
Capture method(s):
Insects are vacuumed into net. Nets need to be replaced periodically.
Additional features:
Furniture-grade plastic, quiet fan, wheels, all-weather use. Patented counterflow capture technology. Lurex cartridges attract elusive Tiger mosquitos. Burying clips for power cord included. 1 year warranty.
Price range:
$382-$499
Supplies and Accessories:
Octenol or Lurex insect attractant, replacement nets, Propane (full tank lasts 2-3 weeks)
Cost of supplies:
Octenol - $15-$35 per 3 pack or Lurex (around-$25 per 3 pack)
Replacement Net - around $15, lasts about 3 weeks
Propane - price varies
User feedback:
Generally regarded as very effective. Reliability received mixed reviews - we found owners singing the Liberty's praises after several years of use and others who reported problems early on.
Comments:
Very effective unit for large outdoor areas. (Never use propane mosquito traps indoors.).