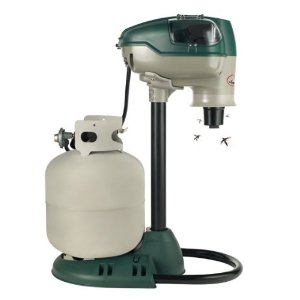 Note: This is an older model. The Mosquito Magnet Patriot has been replaced by the Patriot Plus (MM4200) - essentially the same unit at the same price, but with a redesigned insect net which is 3x larger.
See our review
---
The Patriot (MM4100) offers time-tested and patented Mosquito Magnet™ technology at an affordable price.
This basic, no-frills trap attracts mosquitos and other biting insects. runs off a generous 50' A/C power cord (included), and features a self-contained rigid insect net and a sled base for stability.
Details:
Attractant(s) Used:
CO2, heat, moisture and octenol or lurex attractants mimic the mosquito's warm-blooded prey.
Capture method(s):
Patented "counter flow" technology captures mosquitoes in a rigid dry-catch net.
Additional features:
Weatherproof construction features heavy-duty plastic and marine-grade metal. Stable "sled" base.
Price range:
$300-$349
Supplies needed:
Octenol or Lurex3 insect attractant, replacement nets, Propane.
Cost of supplies:
Octenol - $19.99-$21.99 per 3 pack or Lurex (around-$25-$29 per 3 pack)
Replacement Net (approx. $11-$20)
Propane - price varies

Per the manufacturer, Octenol/Lurex and nets should be replaced every 21 days.
User feedback:
Mixed bag - this seems to be a "love it or hate it" item, with the "likes" outnumbering the "dislikes." Most complaints involve customer support issues. The lure/capture system used the entire Mosquito Magnet line is one of the best.
Comments:
The least pricey of the Mosquito Magnets, the Patriot still has considerable maintenance costs which should be taken into consideration. The brand and technology have been around for 18 years and are generally considered to be quite effective.