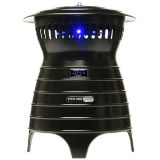 Little brother to the top-performing Mega Catch Ultra and the bestselling Mega Catch Premier, the Mega Catch Alpha Pro 900 is an entry-level mosquito trap which employs some of the same winning technology as the other Mega Catch models with a pricetag of under $150.
The Mega Catch Alpha doesn't have as many high-tech features as the more expensive insect catchers, but it offers up to a half acre of coverage at a reasonable price. The energy efficient Alpha Pro 900 uses less electricity than a 20 watt bulb.
The company literature mentions that the Mega-Catch Alpha can be used indoors or out. I have to say we're not big fans of using mosquito traps indoors - there's always the chance that the mosquitoes will find a tasty human before they find the trap - but the Alpha's certainly portable enough and there are no toxic emmissions, so you can certainly gve it a try if you're game! (Just remove the ocetnol strip first or it will leave a nasty smell in your house!)
Introduced in 2011, the MCA-900 (Alpha Pro 900) replaced the previous Alpha model, the MCA-600.
Details:
| | |
| --- | --- |
| Attractant(s) Used: | Multiple frequency UV pulse light, heat, optional attractant. |
| Capture method(s): | A fan pulls mosquitoes into a catch-bag inside the trap. |
| Additional features: | Weatherproof ABS housing, all-weather fan with stainless steel ball bearings, 12V weatherproof power supply with universal voltage detection. 12 month manufacturer's warranty. |
| Price range: | $149 |
| Supplies and Accessories: | Optional: Extension cord, optional Octenol attractant. |
| Cost of supplies: | N/A . Optional attractants cost approximately $29.95 for a package of two. |
| User feedback: | User feedback is mixed - this seems to be a "love it or hate it" product. |
| Comments: | The Alpha doesn't have all the bells and whistles of the top-of-the-line Ultra or even the Premier, but it's a well-made, durable product. We recommend using it with the attractant strip. |
Where to Buy:
Specifications:
Dimensions: 9.5" x 9.5" x 13.5"
Weight: 3 lbs.
Power Source: A/C
Coverage: Up to 1/2 acre, with a 90' range. Good for patios, balconies, decks, gardens and small yards.
Where to buy :